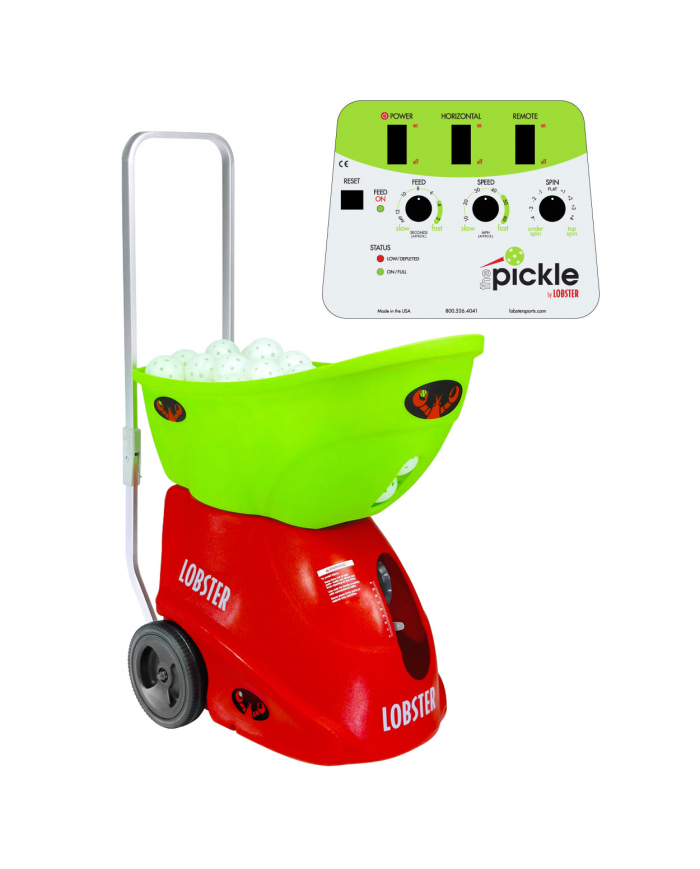  
the pickle
The pickle by Lobster is a full-featured pickleball machine that outperforms all others on the market. Our pickleball machine throws balls up to 60 mph and offers both heavy top and backspin.
The large hopper holds an impressive 135 pickle balls and the pickle by Lobster can challenge you for up to 4 hours per charge, allowing you to master shots like the dink, drive, lob, and groundstrokes—taking your game to the next level.
For a great workout, the random oscillation will make you focus on your footwork, while the sky-high lob capability will keep you on your toes, improving any weak area of your game.
At only 35 pounds, the pickle by Lobster's smart design features an inverting hopper, folding handle, and large 8-inch wheels, which make it easy to get the pickle in and out of your car, over curbs, and across any surface to the court.
Optional accessories include our premium charger to shorten your charging time and the Lobster elite remote to control your machine from across the court.
The pickle by Lobster is made in the USA and is covered by Lobstersports France's 4 year warranty. This pickleball machine works with indoor and outdoor pickle balls.
Custom Drills: none
Pre-loaded drills: none
Oscillation: random horizontal
2-line function: none
Spin: top, back
Ball Speed: 10-60 mph
Feed rate: 2-12 seconds
Elevation: manual, 0-50 degrees
Ball capacity: 135
Power: battery
Court Time: 2-4 hours
Standard charger: included
Remote: 2 function  elite remote
Premium charger 3,8amp/7amp : optional
Weight: 35 lbs
Warranty: 4 years by lobstersports France