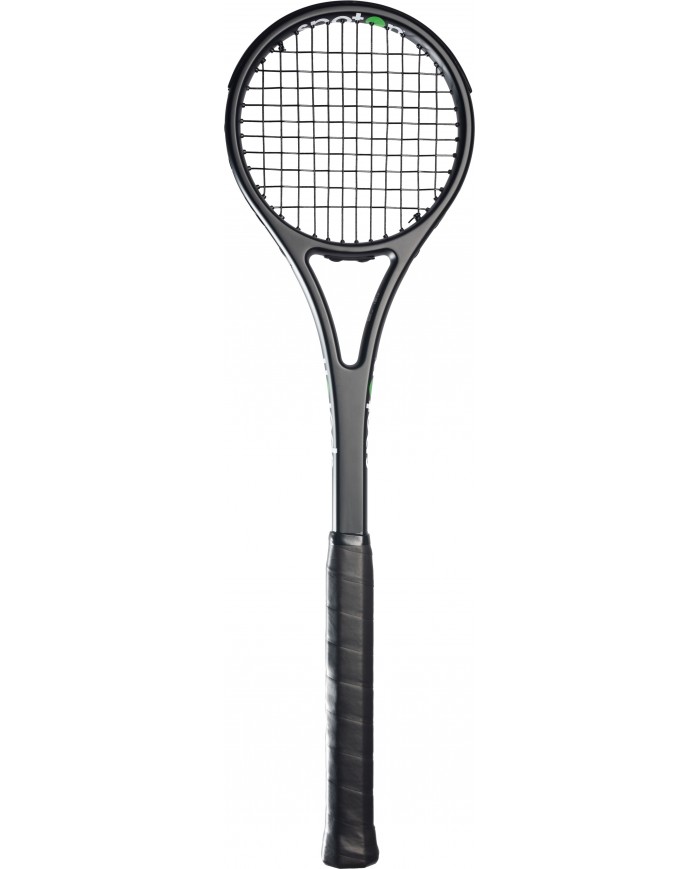  
spotOn® Carbon Strung
spotOn® Carbon strung... fine tune your tennis! 
Not only is the spotOn® a revolutionary tennis tool to  better hit the sweet spot, it will also bring the player to a more intuitive biomechanic tennis.  The tennis player will immediately understand the vertical swing path of the head  to find the perfect contact point with the ball. Once the ball comes off  clean and effortlessly  from the spotOn®'s head, the player discovers the very essence of the stroke he has been looking for. Using the spotOn® will put  any player in the spot, regardless of his level ranking. Technical flaws not seen before will emerge and will give the player the chance to correct them. 
Due to its frame geometry, the spotOn® 310gr makes the player develop a technical instinct resulting from the  combination of his own cognitive abilities (how the brain processes information i.e speed, spin, trajectory... of the ball) with  his own physical aptitudes. Using tolerant frame rackets pushes any player towards "laziness" as  brain and lower part of the body remain in their comfort zone. The spotOn® is here to make sure the brain gets activated again! 
The  spotOn® is  used for the service box warm-ups  to get the feet moving or straight from the baseline. Training sessions can be done entirely with the spotOn®. Also recommended for the serves as the ball toss will be more consistent resulting in better serves.
Advantages the spotOn® Carbon brings to players : 
Placement

Timing & ball contact

Concentration

Racket's head must remain perpendicular to the ground

Relaxed arm device 

String trampoline effect 

Grip
Last time this product was added to a cart: 2021-03-03
spotOn® Carbon  SPECS :
Head size : 200cm
Length : 62cm and 58cm
Weight (unstrung) : 310g/285g/250g
Weight balance : 325/320/285
Material : graphite
Recommended tension : 8 to 10kg
String pattern : 10 x 12
Grip : L2 and L0
Grip taper : SLS