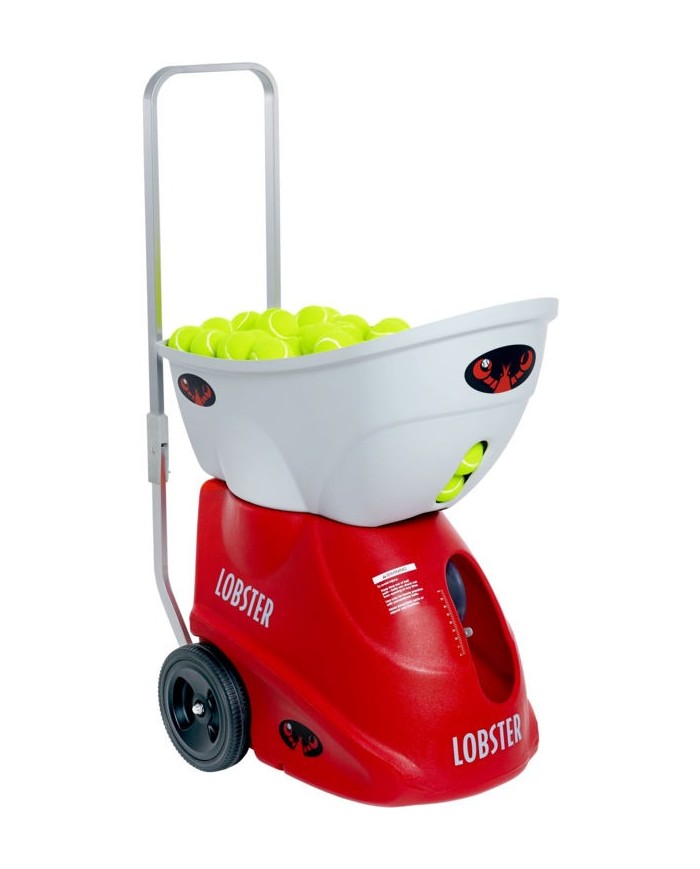  
elite one
If your focus is having fun and improving your tennis game with an affordable battery-operated tennis ball machine, the the lobster elite one is the perfect choice!
Enjoy playing against the lobster elite one tennis machine's advanced features, including :
Full corner-to-corner random oscillation will help you work on your forehands and backhands.

60-degree lobs, a feature not available on any other battery-operated tennis ball machine, will help you practice your overheads.

Improve your reaction time with ball speeds up to 80 miles per hour.

Perfect your ability to return whatever comes your way with heavy top and backspin feature.

"High Spin" is standard equipment - no need to pay extra. Lobstersports France provides adjustable unmatched heavy top and underspin.
If you think your game could benefit from triple vertical oscillation, which moves you throughout the entire court, find out more about our elite two lobster tennis machine.
Lobster Sports offers multiple power options for both at-home and for training on the go. If you practice at a public courts or are always on the move, one of our elite one battery machine options is for you. We offer both our standard internal battery machine and an external battery option where the battery pack is carried separately.
Along with making the machine lighter for lifting and transporting, the external battery offers the convenience of leaving your elite in your vehicle and simply bringing the battery pack inside to charge. If you have a home court or access to a court with power, all-our-electric elite prevents you from ever having to charge your machine! Without an internal battery, it runs  solely on our plug-in elite power pack and supplies endless training time.
If you want the best of both worlds , purchase one of our battery options along with an elite power pack, which will give you the freedom to use either the battery or electricity to power your machine. 
Random oscillation
Last time this product was added to a cart: 2019-10-04
| | |
| --- | --- |
| Oscillation : | random horizontal |
| Speed : | 10 to 80 mph |
| Feed rate : | 2-12 seconds |
| Spin : | "high" top, back |
| Elevation : | electronic, 0-60 degrees |
| Ball capacity : | 150 |
| Power options : | battery, electric, combo (options in cart) |
| Court time : | 4-8 hours |
| Standard charger : | included |
| Premium charger : | optional |
| Remote : | 2 functions |
| Weight : | 42 lbs. |
| Warranty : | 4 years |
| Product # : | EL01. |