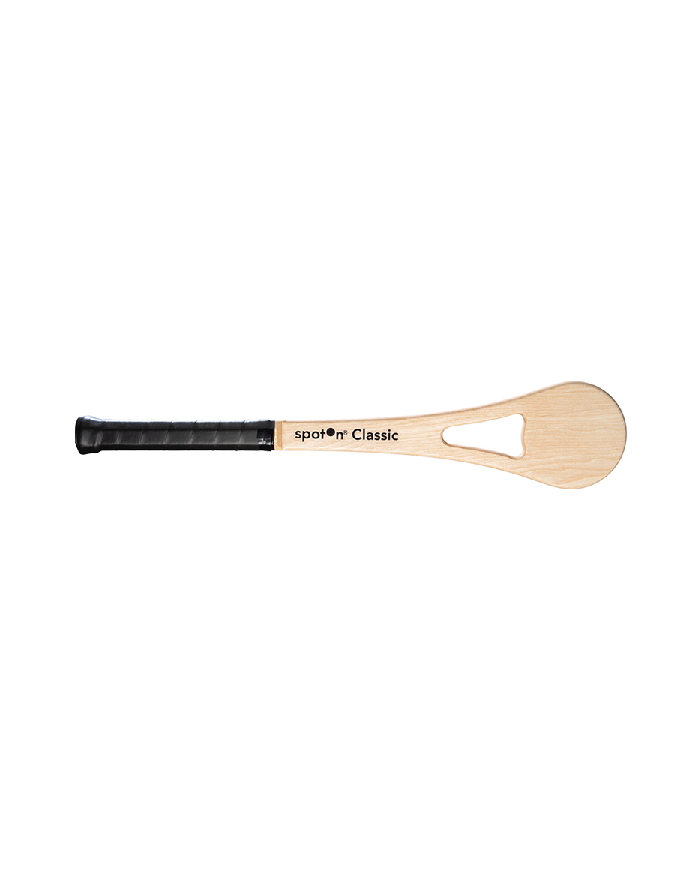  
spotOn® Classic
spotOn® Classic in wood... learn how to center the ball with a good placement!
Handmade with pride in our french workshop in Provence, the spotOn® Classic 310g is the tennis tool that will allow tennis club players or ATP/WTA/ITF players to perfect placement and ball contact when practicing their forehand or backhand. Players will immediately understand  that they will need to :   
Fine tune distances  from the ball;
Fine tune the timing;
Carry and guide the ball in the spotOn® head as long as possible rather than hitting the ball;
Relax the grip;
The spotOn® 310g is used during the serve box warm-ups with a partner or straight from the baseline against a lobster tennis ball machine or with a tennis coach bucket or hand feeding the player.   
The spotOn® Classic has long been endorsed by the french federation and many tennis academies. 
Last time this product was added to a cart: 2019-12-16
What ATP coach Ralph Boghossian* says about our spotOn® : " The spotOn® is a revolutionary tennis tool. First of all, instead of making long discours often half understood  if not at all, the player will by himself feel in a much more intuitive way what he does right or wrong and bring corrective actions if necessary.  Tennis is highly demanding for the player in terms of perceptual abilities. The spotOn® 310g will dramatically help him when it comes to find the right distance or fine tune the timing, or hit the ball in front of him with the head of the spotOn® perpendicular to the ground. After few minutes of training, the progress is just awesome : more fluid strokes, more depth gained by 1 to 2m, spot on tuned timing, tuned footwork on any stroke, laser-like precision strokes. I highly recommend this very version of wooden racket as the frame shape delivers better feels ." 
*Ralph Boghossian is a french ATP coach who trains N° 61 ATP player Benjamin Bonzi.
Recommended for : 
Player of any age being cart or hand fed with tennis balls;

ATP/WTA/ITF players;

Fine tuning the forehand/backhand kinetic chain;

Practicing the serve toss; 

Correcting the grip;

Developing an effective footwork;

Developing an 

acute perceptual ability;
The spotOn® Classic is available in three different versions : 310g for adults, 285g for juniors, 200g for kids. Please contact our workshop to choose the right model.  The spotOn® Classic can be made to measures (please contact our workshop).